Why?
Because it's unacceptable to lose one child to cancer.
We want to solve the problem that is childhood cancer. Cancer is a diverse group of several hundred diseases in which some of the body's cells become abnormal and begin to multiply out of control. The abnormal cells can invade and damage the tissue around them and spread to other parts of the body, causing further damage and eventually death.
Cancer is the leading cause of death from disease in children in Australia. Overall, survival rates from childhood cancer in Australia have improved significantly in recent decades with more than 8 in 10 children surviving for five years or longer. However, improvements have not been seen across all cancer types. Survival rates for some of the more common childhood cancers remain much lower.
While the story above is fictional, it is based on very real events. Children like Kane and Emma are still being diagnosed and dying from cancer. Children are having to undergo horrendous treatment, spend time in hospital and grow up way too fast. Parents are having to endure the trauma of watching their child go through cancer, unable to do anything but hope that the doctors have the best possible treatments available. Parents are still losing their children to cancer and we don't know why. Help us find out why. Please donate today.
Donate now
Every donation helps us get closer to finding out why,
so we can stop children dying from cancer.
By supporting the research that will deepen our understanding of childhood cancer,
and reveal new treatments to overcome it, you will help save lives.
Kane's Story
Kane had just started high school when he became ill. He and his mum Natalie flew from Grafton to the Lady Cilento Children's Hospital in Brisbane where he was bombarded with a large number of distressing tests, including a lumbar puncture, which was truly awful for both Kane to endure and for Natalie to witness.
On the night of 8 July 2016 Natalie and her husband Rick were told the news no parent wants to hear. Their son had lymphoma, and although they were hoping for a cure, it was not to be, and Kane died only four months later, just after his 13th birthday, which he spent in hospital.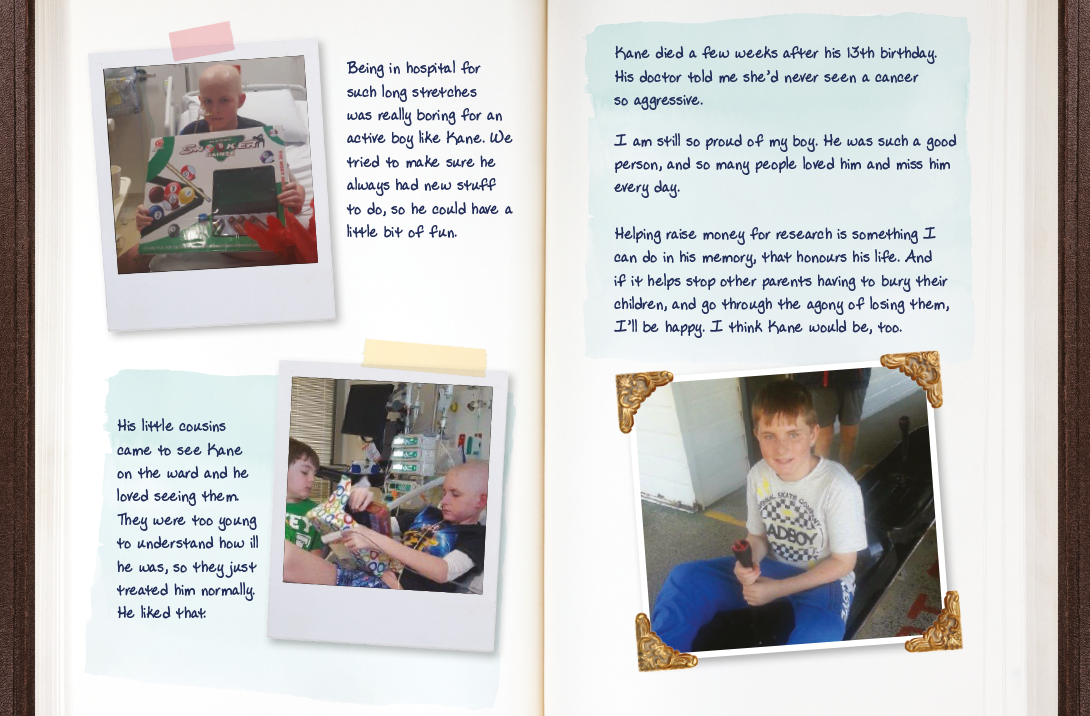 Emma's Story
Emma was just 10 when she was diagnosed with an aggressive cancer, known as rhabdomyosarcoma. Over nearly three years, Emma endured an extraordinary 11 surgeries, two years of chemotherapy and 55 sessions of radiation. Her parents were by her side the entire time, watching her suffer yet knowing there was nothing they could do to take the pain away.
Stuart and Leanne's 13-year-old daughter Emma passed away from cancer in 2013. They will live with their grief forever. The only good thing that might come of this family's pain is that it will help save someone else from dying.
Why Donate?
This Christmas you can help save children's lives.
Every day, researchers like Professor Gottlieb and his team are working towards a cancer free future. This specific research funded by Cancer Council will accelerate the introduction of a cutting-edge immunotherapy for leukaemia and lymphoma in NSW, making treatment more accessible and affordable. As this revolutionary therapy becomes available for other cancers, the benefit to patients will continue well into the future.
Because of research:
More people – adults and children – are surviving cancer
A constant stream of new discoveries is providing hope – and more time with loved ones
Brilliant Australian researchers are on their way to unlocking more of cancer's secrets
Prof. David Gottlieb
The University of Sydney
"Research is about constantly identifying new questions to answer. A combination of curiosity, academic activity and caring for people in a real and meaningful way really drives me forward with my research. I am continually motivated by the fact that my day-to-day work can, and does, improve patient outcomes.
I specialise in cellular therapies, which is the use of cells as treatment as opposed to traditional drugs.
I hope my research will contribute to improving treatment of blood cancers, especially making them simpler, more effective and more tolerable for patients."
Kane died from Non Hodgkins Lymphoma Anaplastic Large Cell Lymphoma and Emma from
Rhabdomyosarcoma. The following research will help save the lives of kids like Kane and Emma.
Boosting the immune system to help it find and kill lymphoma cells
Cancer Council NSW Funding:
$450,000
Funding duration: 2017-2019
Leading accessibility of a revolutionary immunotherapy in NSW
Cancer Council NSW Funding:
$3,750,000
Funding duration: 2019-2023
Building research infrastructure to enable clinicians to choose the right treatment for the right patient
Cancer Council NSW Funding:
$988,888
Funding duration: 2018-2020